Sitting on a bench in front of Vineyard Scoops ice cream shop, Geno Courtney spends his days surveying Edgartown's downtown. He owns 40 per cent of it, by his estimate. That includes Edgartown Cinemas, the Edgartown Paper Store, Shirt Tales and numerous condominiums above various businesses. Mr. Courtney, now 81, first came to the Vineyard at the age of 22 to cut hair.
At the end of his career as a barber, he ended up buying a handful of properties in Oak Bluffs on Circuit avenue.
"Oak Bluffs is a different retail market than Edgartown," he said, describing his realization that selling T-shirts, souvenirs and gifts a few miles to the east might yield a higher profit margin. "I sold off those original six properties and started accumulating in Edgartown."
And accumulate, Mr. Courtney has.
Today his holdings (in some cases shared with his former wife Barbara, who remains a business partner) include the 25 Main street Edgartown Paper store, which he bought for $725,000, now valued at $2.6 million and a property he calls "the best location on the whole Island." (In another small twist of history, he said it was Alfred Hall who as president of the Dukes County Savings Bank helped him secure a mortgage on the building after other banks had turned him down.)
The Shirt Tales building at 61 Main street is now valued at $4.2 million.
The 65 Main street movie theater has been a boon for the community, after a fire destroyed the first location in the early 1960s, and films were played out of the current town hall until a new space was built. The cinema building, originally purchased for $195,000 in 1993 is now valued at $1.7 million, according to town assessors.
Recently, Mr. Courtney has acquired several spaces at public auction, including two condo units above Charleston Shoe Co.
"When I showed up to bid, nobody made another bid," he noted with a touch of pride.
He also owns a handful of properties along Main street in Vineyard Haven, including the 53 Main street property housing CB Stark Jewelers, now valued at $1.6 million.
Mr. Courtney and Barbara Courtney raised their three children in Florida during the winter and on the Vineyard in the summer.
Over the summers, "everybody worked, as soon as they could stand on a milk box they were behind the register," he said. "Our family was always working in the summer."
That work ethic has paid off, with sons Patrick and Teddy returning to the Island after college and now running both the Covington and the Port Hunter restaurants, in two buildings, the senior Mr. Courtney chuckles, he doesn't happen to own.
Will he continue to build a family empire? He doesn't rule it out. "There are no more properties for sale at the moment," he said.
For Mr. Courtney, it's not so much the wealth, but "the challenge of it all. That's what keeps me going," he said.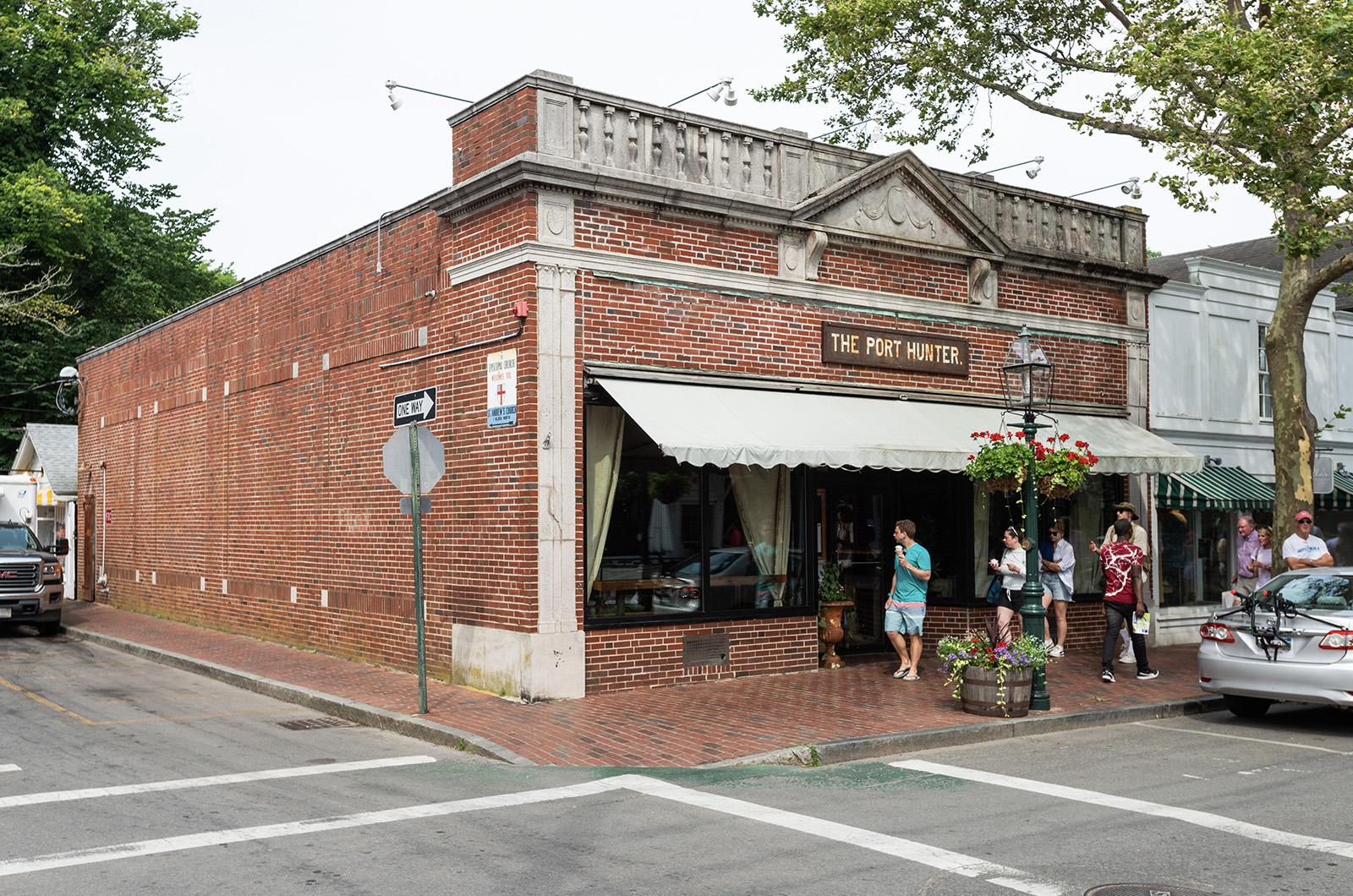 The Hall family history of Island real estate ownership runs deep in all three down-Island main streets and beyond. 
Sitting on a bench in front of Vineyard Scoops ice cream shop, Geno Courtney spends his days surveying Edgartown's downtown. He owns 40 per cent of it, by his estimate. 
Claudia Canerdy founded Claudia in Vineyard Haven in 1971. She is one of a handful of female owners of downtown properties. 
Larkin Stallings said he was walking down Circuit avenue in 2014 when he saw a "for sale" sign in the window of the Ritz. He took ownship of the bar four months later. 
Josh Goldstein, with his parents, owns the Mansion House. Sherman and Susan Goldstein purchased it in 1986.  
Charles and Anne Hajjar have named the Island hotels they own after their children. They purchased the Sydney in 2015.
---
← Full story | Main Street, Edgartown | Circuit Avenue, Oak Bluffs | Main Street, Vineyard Haven